John's Winter/Spring Tour is due to commence on 22 January 2022. The full list appears below, details will be added as and when we get them. Please keep an eye on gig venues' web and social media pages for updates.
Sat 22nd Jan at 7.30pm, Drawings of Dromedaries and Other Creatures at Unity, Liverpool.
Sat 29th Jan, Hanging Langford Village Hall.
Fri 4th Feb, Fovant village hall.
Sat 5th Feb, Scottish Poetry Library Edinburgh, John Hegley In Person: Workshop at 2.30pm, and in the evening at 7.30 Hegley On Keats.
Mon 7th Feb at 7.30pm, Love Cuts at Wilton's Music Hall London E18. Accompanied by the double bass of Julia Doyle and the single brass of Chris Dowding.
Fri 18th Feb, Pen Selwood Village Hall.
Sat 19th Feb, Churchinford Village hall.
Thurs 24th Feb, North Cadbury Village Hall.
Fri 25th Feb, Purlock Village Hall.
Sat 26th Feb, The David Hall, Somerset.
Fri 11th March, The Gulbenkian, Canterbury, with Eleanor Moreton on fiddle.
Sat 26th March, Squire Theatre Nottingham.
Wed 20th April, Brighton Komedia.
Sat 23rd April, Colchester Arts Centre. Lunchtime show.
Wed 27th April, Halifax Square Theatre.
Fri 29th April, Workshop, Midland Arts Centre (MAC)
Sat 30th April MAC (afternoon show)
Tues 3rd May Norwich Arts centre.
Fri 6th May, Kings Place, London.
Fri 13th May, Bakewell Town Hall.
Wed 25th and Thurs 26th May, Bristol Wardrobe Theatre.
Sat May 28th, The Lowry, Manchester.
Reviews
'Family life would be a lot easier if you could just open the cupboard and pull out your Hegley every time things got fractious, heated or miserable'
The List
'Awesomely mundane'
The Independent
'Scandalously talented'
Sunday Times
'Bleeding marvellous'
NME
'Like a good deed in a naughty world'
Herts Advertiser
'Makes little sense'
Luton News
'Marvellous, joyful fun'
The Telegraph
'An incurable entertainer'
The Guardian



There's masses of interesting stuff about John's Islington connection in a blog called Islington Faces. Who knew that our man was once in a production of The Pajama Game directed by Simon Callow?
John's programme about his relationship with the French Baroque composer Jean-Philippe Rameau Who Does John Hegley Think He Is? can also be found here or via the app. It will be available until midnight on 31 December January 2098 so be sure to put that date in your diary to be certain you don't miss it.
JOHN HIGHLY RECOMMENDS: Poetry For Good is a social enterprise cleaning company based in London which organised a new national poetry competition to celebrate and publicise the lives and stories of the nation's Key Workers - cleaners, shopworkers, couriers, nurses, etc. Open to anyone aged 11 or over and judged by three up and coming poets whose new specially written work can be viewed on the website.
JOHN HIGHLY RECOMMENDS: Mel Brimfield's From This World, to That Which Is to Come is open both in person at The Tetley in Leeds and online until 30 August 2021. Free, donations welcome. The show takes its title from John Bunyan's 1678 parable The Pilgrim's Progress, which describes a fictional pilgrimage from 'The City of Destruction' to 'The Celestial City'.



You can now keep track of John on Facebook - just click on the button. And if you have a Facebook account please click the Like button below, it will help spread the word! Note that this is a Community Facebook page and John isn't personally involved in it. Please don't use it to send him personal messages, use the email address on the Contact John page instead.


The winning entries can be viewed by clicking here.
Click here for John's thoughts on Morris Dancing in The Guardian's online comment pages......

There's Trains. There's John Keats. There is Joan of Arc. There are trucks and boats and ship. With chips.
What's so funny about peace, love and understanding? With drawings largely by the author.
Find out more about the book.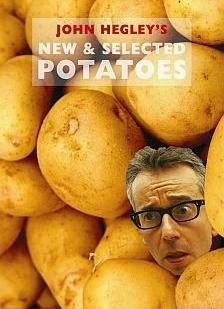 A greatest hits, best of golden oldies compilation (with some new stuff).
This new compilation shows the breadth of his appeal, with seriously funny, cleverly comic poems on everything from love, family, France, art and the sea to dogs, dads, gods, taxidermy, carrots, spectacles and - of course - potatoes.