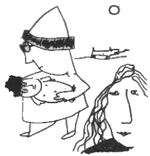 Smothering Sunday
To a wonderful mother
with wrinkly skin,
this card was concocted
by one of your kin.
I hope that you like it
it's specially for you,
I've sprinkled some glitter
on top of some glue.
I don't like the bought ones
I thought you should know,
they're too superficial
and two quid a throw
some of them.